Last September with 5 month old Odin in tow, I flew to New York for some meetings at the United Nations Population office to discuss partnering up and collaborating together. 
Some of the team from UNFPA had seen my collection GUARANTEED TO BLEED at the #wearingIrish launch in New York in May and loved the messaging behind the collection and felt it aligned with their campaign for ensuring rights and choices for all.
After many months of discussion we officially partnered in February right before our launch of the SISTERS AW19 collection at London Fashion Week. 
This collection celebrates the 25th anniversary of Sexual and Maternal health as a Right. UNFPA works in more than 150 countries and territories that are home to the vast majority of the world's people.  Its mission is to ensure that every pregnancy is wanted, every childbirth is safe and every young person's potential is fulfilled.  
Our presentation was on-schedule at LFW and we had WWD, ELLE, Cosmopolitan, Global Citizen, Hunger Magazine, Surface, Vogue Magazine and lots more attend. Matt Jackson who heads up the london based UNFPA office was there to do press with me. We had the most amazing team of talented gorgeous people step in and help to make it a beautiful emotive show that symbolised the important work of the UNFPA, you can see the list of these incredibly talented creatives below.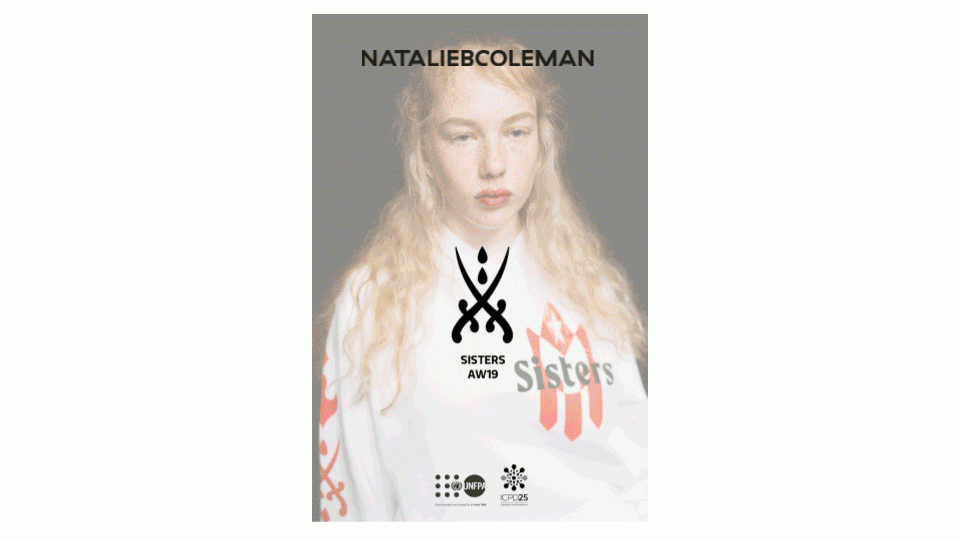 Our mainline collection had Silk Taffeta and chiffon dresses that were inspired by an 18th century wedding dress from the Met museum archive that represented child marriage. We had hand knitted Vagina Cake Jumpers and a cream knit using Romanian lace techniques and reworked traditional knitting to recreate the female reproductive anatomy on the front. A beautiful Irish Linen wedding dress with Carrickmacross Lace sleeves depicting the female Reproductive system, this was hand stitched by the lace maker Theresa Kelly, one ovary using the button hole stitch took her 32 hours to finish. These motifs were replicated on the front of the dress using embroidery and beading and where the heart sits we created a beautiful heart flower, again all stitched and cut by hand with petals falling off that fell down the dress, changing colours from whites to soft to deep pinks and then finally to a sea of red along the hem of the skirts. 
The mainline collection was supported by a casual line of hoodies, t-shirts, sweaters and silk scarves, with illustrative prints developed by myself and John Slade, these are a call to action, the prints subverting and reclaiming what would have been seen as negative iconography on female sexuality and freedoms. 
The music, the models, the lighting, the set all came together beautifully to create a really moving experience. 
We are currently working on producing the orders for stores and for our online store that will also help to raise more awareness about the work that UNFPA does and actively involve the buyer in supporting this. 10% of all the profits from the casual line are donated to the UNFPA and their work with women and girls so each sale is helping. 
CREDIT LIST
NATALIEBCOLEMAN x The United Nations Population Fund
AW19 — SISTERS
Natalie would like to thank
Show Stylist Aisling Farinella
Ena Quinn for Production
Rebecca Knox for Casting
Celina Bassili for Set Design
Hair by Declan Sheils using Hair by Sam McKnight
Make-up by Rachel Singer-Clark using Healgel
Stephie Devred & Mario for Show Photography
Keith Driscoll for Show Videography
Ashley, Ricky and all the team at The Lobby London for PR
Aileen Carville and all the team at SKMMP for Sales
Matt Jackson and the United Nations Population Fund London
Show team:
Bence Szalay, Caroline Lauvetz, Amber Watts, Linnea Guttelvik,
Leah Elstad, Eva Cavojcova, Molly Southcombe
A special thanks to the NATALIEBCOLEMAN studio in Dublin
and the Carrickmacross lace makers in Monaghan